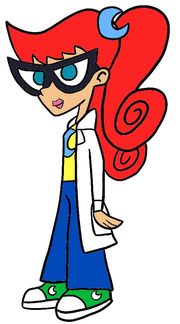 Marydike Diane Test (voiced by Brittany Wilson) was a thirteen year old girl who was also the sister of Johnny and also the daughter of Hugh and Lila.
Appearance
Edit
Mary was seen wearing a light gray jacket, a yellow shirt, glasses, a light blue moon shaped barrette, navy blue pants, and green hi top shoes. She has red hair she has greenish blue eyes.
Counterparts

Edit
Babs Bunny (Tiny Toon Adventures).
Anne Marie (All Dogs Go To Heaven).
Jenny Foxworth (Oliver And Company).
Penny (The Rescuers).

Melody (The Little Mermaid).
Daisy Duck (Mickey Mouse).

Mother Gothel (Tangled).
Trixie Lunamoon (My Little Pony: Friendship is Magic)
Robyn Starling (Tom and Jerry: The Movie).
Shanti (The Jungle Book).

Isabella Garcia Shapiro (Phineas and Ferb).